Pygmy [वामन (VAMAN in Hindi)] Stamp Board is an affordable module based on the QuickLogic EOSS3 - an Ultra Low Power MCU + eFPGA SoC.
A Tiny 21mm(L) x 9mm(W) x 1.2mm(H) module, with castellated holes, 54 pads with all EOSS3 pads broken out.
On-Board 16Mbit SPI Flash and EOSS3 Bootstraps, allowing flexible use in any scenario.
1 mm pitch castellated pads make it easy even for hand-soldering.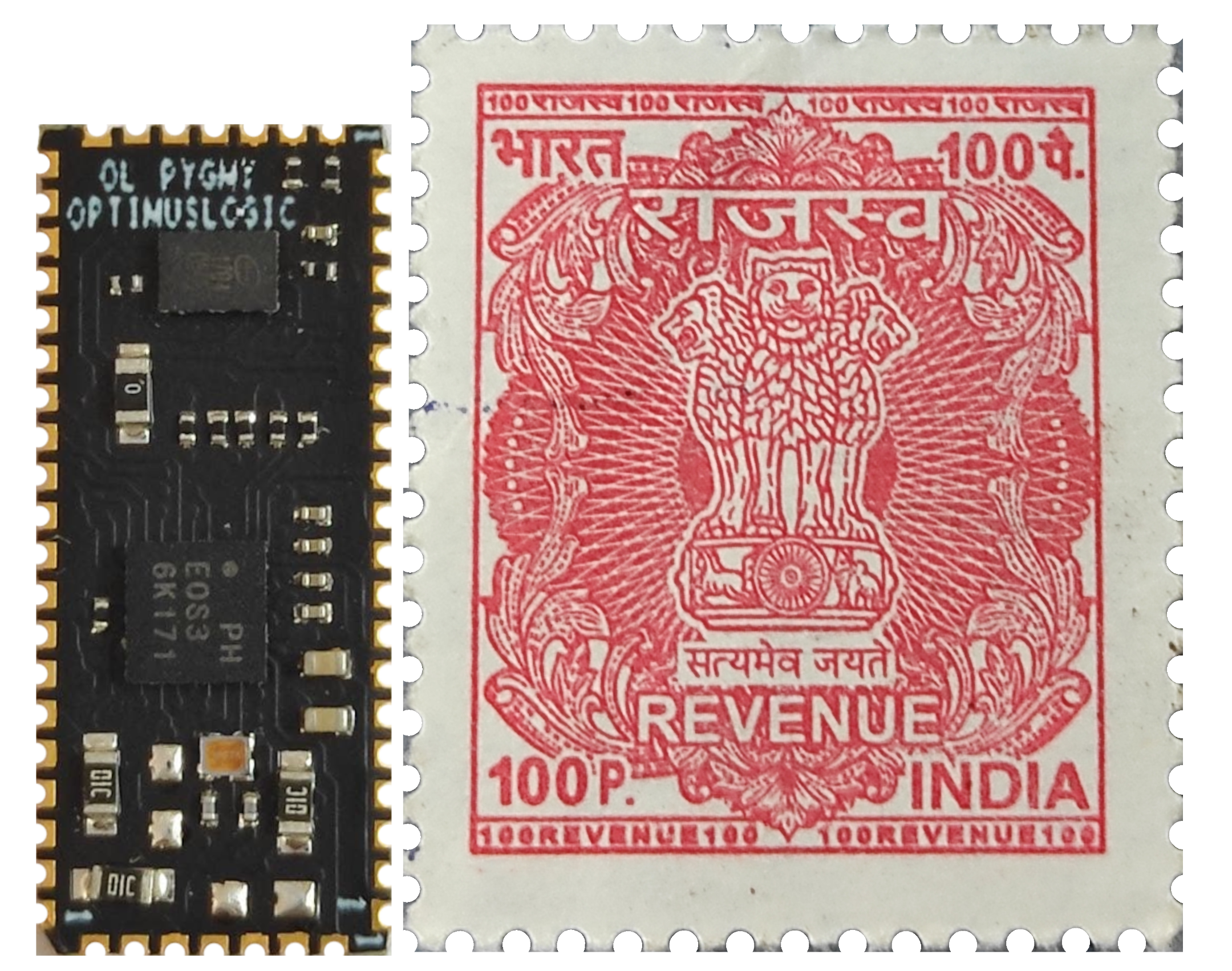 QuickLogic Open Reconfigurable Computing (QORC) is the first project in the world to embrace the completely open source Symbiflow Toolchain for FPGAs effort, with all the FPGA internals open sourced.
QORC targets the EOSS3 SoC which has a Cortex-M4 core + eFPGA tightly integrated and accessible from the Cortex-M4 core via an open source Wishbone bus.
A list of features supported in the QORC initiative :
Supports ARM GCC Toolchain for the Cortex-M4 core, and Eclipse Embedded CDT out of the box

Supports the Symbiflow Toolchain for the eFPGA (yosys + VtR-VPR)

Supports using Segger J-Link as well as any OpenOCD SWD adapter for debugging

Supports use of ML platforms - SensiML and TensorFlow Lite

Supports Always-On Voice applications with built in LPSD
You can read more about the QORC initiative here: QORC
OptimusLogic is happy to partner with QuickLogic to support the QORC Initiative
The Pygmy Stamp Board was created in collaboration with QuickLogic to lower the entry barrier for usage of the EOSS3 - ranging from simple academic development kits to complex commercial usage, without getting into expensive and complex process of making BGA design/manufacturing.
OptimusLogic makes a low cost development board, Pygmy Base Board v1, a medium cost development board with on-board WiFi/BT/BLE connectivity, Pygmy Base Board v2, as well as a completely open source watch form-factor development kit, Sensei, leveraging the Pygmy module.